Ichthyop is a free Java tool designed to study the effects of physical and biological factors on ichthyoplankton dynamics.
It incorporates the most important processes involved in fish early life: spawning, movement, growth, mortality and recruitment. The tool uses as input time series of velocity, temperature and salinity fields archived from ROMS, MARS, NEMO or SYMPHONIE oceanic models (either files or OpenDAP).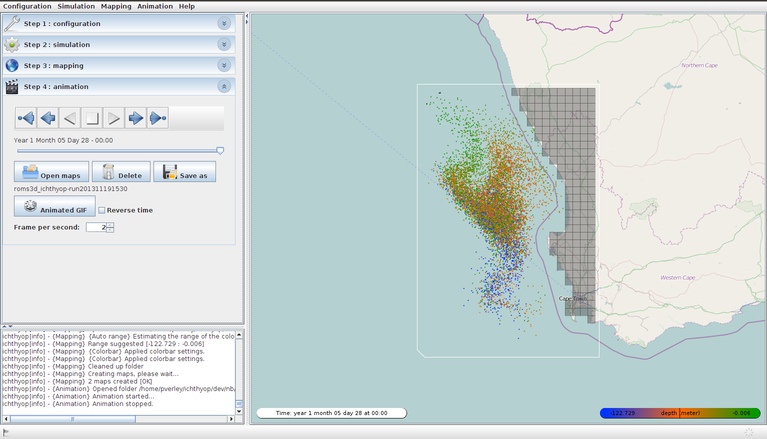 The tool offers two running modes. The first one provides a user-friendly GUI for setting-up and running the simulation and visualizing the transport of virtual eggs and larvae, either creating animated GIF or exporting the trajectories to KMZ format (Google Earth). The second one is a batch mode that gives full power to computation. Both modes produce NetCDF output files that store information about the simulated dynamics of individuals (time, longitude, latitude, depth, length, etc.).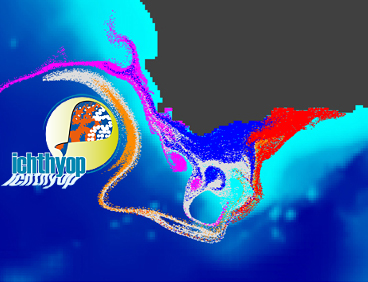 Citation
To cite Ichthyop in a publication, please refer to Lett et al., 2008.
Ichthyop now comes with the following DOI: https://doi.org/10.5281/zenodo.4243813. Please use it in your Ichthyop publications.
Don't hesitate to send use the references of your Ichthyop publications, in order to include them in the Publications page.
Contact us
If you have any question about Ichthyop, first check the Documentation. If you don't find the answer, please contact us.
Note that the former Forum has been closed, and all new issues/questions must be submitted to the Ichthyop's GitHub issue page.